Called BMR350, it is aimed at intermediate bus conversion for processors and asics.
Input range is 40 – 60V (80V for 100ms) and the output is 12V at 100A maximum, adjustable from 8 to 13.2V.
"An innovative transformer-coupled, non-isolated topology reduces component count and component current stress and yields an efficiency level peaking at >97.8% at half load 48V input voltage," according to the company.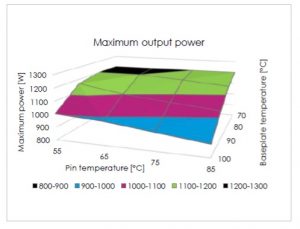 Derating is specified in the form of a graph (left) "which specify available output power for given real-world pin and baseplate temperatures up to 100°C, with the user's airflow rate. This enables maximum power to be extracted without stress to the converter", said Flex, although Electronics Weekly cannot find a data sheet, nor any usable version of the graph – clarification has been requested.
For higher power levels, active current sharing between paralleled modules is an option.
Protection is included against output over-voltage, output over-current and module over-temperature. An 'event data recorder', said Flex, is included for analysis of stress conditions prior to converter shut-down.
A PMBus interface provides remote control and monitoring.
The converter will not meet EMI standard EN 55032/FCC part 15J Class B without an external filter.
Size is 58.4 x 36.8mm footprint and 12mm high – including the integrated baseplate with its threaded fixing holes.
Terminations are via through-hole pins, suitable for pin-in-paste reflow, wave or manual soldering and positions are compatible with similar products on the market, said the company.
OEM quantities are scheduled for the end this quarter, and variants are planed during 2022.