The company is fabless, and using its in-house intellectual property to improve the gate drive characteristics of GaN power transistors built on standard GaN foundry processes, by integrating further active devices on the device die rather that using specialised process for performance enhancements.
The two year project, dubbed ICeData, has undisclosed funding from BEIS, the UK's Department of Business, Energy and Industrial Strategy.
Cambridge GaN Device's ICeData project addresses solutions that are lighter, more compact, significantly more efficient and potentially cheaper than those based on silicon," said CGD CEO and co-founder Giorgia Longobardi (pictured).
The IC will have smart features for sensing and protection that can react in nanoseconds to over-current and over-temperature events, according to the company.
To this, BEIS adds that it will not need a specialised GaN gate drive chip or additional driving circuitry, and it will feature "advanced packaging".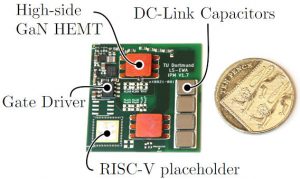 First CGD devices revealed
CGD has already been involved in several UK and European-funded research projects, including GaNext, started in 2020, to which CGD has delivered 650V GaN transistors for the project's alpha intelligent power module (left), announced this week.
GaNext project website
Cambridge GaN Devices' first commercial device is promised "in the first half of 2022".
These will be "650V eMode GaN transistors with embedded logic to deliver specific sense and protection features," CGD v-p of business development Andrea Bricconi told Electronics Weekly. "We will reveal the portfolio shortly."