Called 'SKR Pico V1.0', the controller has a second link with Raspberry Pi, as it directly mates with a Raspberry Pi 4 or Raspberry Pi Zero 2, used to run Klipper, a up-and-coming software package that off-loads hardware dynamics calculations to the host, allowing sophisticated functions such as active mechanical resonance damping to be implemented.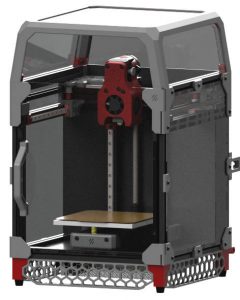 SKR Pico measures 85 x 56mm – making it one of the smallest 3D printer control boards around. The package – RP2040-based control board and Raspberry Pi host – can be used in many printers, but is primarily intended to be the electronics package for the diminutive 'Voron 0' 3D printer (left, now at Voron 0.1) which, with its agile core XY motion platform, is taking the DIY printer world by storm.
The control board includes four TMC2209 stepper motor drivers (under the custom heatsink – which needs a fan is any driver is delivering more than 0.8A), and will run from 24V or 12V. The RP2040 gives it dual Arm Cortex-M0+ cores, to which clipping in a Raspberry Pi will add four Cortex-A-class cores.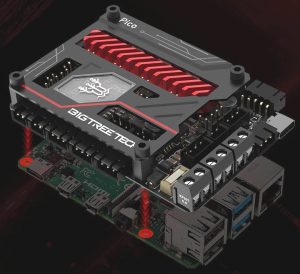 It is also available in the 'Armoured' version with a protective top plate. Either can accept a Raspberry Pi 4 (shown) or Raspberry Pi Zero 2
Data interfacing is via a USB Type-C connector and, emphasises Big Tree, capacitors are Murata types rather than no-names.
Web pages
SKR Pico V1.0 (Big Tree Tech is also known as BIQU)